EDIT MAIN
Keep up to date with our building project. Click the link below below for pictures and descriptions as the building progresses. New pictures will be added as work continues. So, check back often!
For more pictures, click here
Students Elliot Wannemacher and Chris Ferguson have put together a camera that will be taking pictures of the construction as it progresses. The gallery above shows some samples of pictures so far. Pictures showing building pad, JH Gym blocks being laid, and JH wing footers being completed also shown.
High School/Middle School Building Project
Building Site Location
This is the location of the new building. Existing HS/MS to be demolished upon completion of new building.
Planning Continues
Intense planning is underway as plans continue to develop for the new Tinora Middle School/High School. Many new schools around the area have been visited, interviews with teaching staff in their subject areas have been initiated, technology needs are being addressed, a tentative floorplan has been developed, preliminary exterior elevations have been reviewed, and the list goes on. Much more work lies ahead as we work hard to create a building that the Tinora Community will be proud of and will be functional years into the future. Please stop back at this site often to see the progress that is being made as this new facility becomes a reality.
Floorplan as of 10/22/18 and Exterior as of January 25, 2019
This drawing shows the current plan for first and second floors of the new two story MS/HS building. Please note that the second floor of the drawing is shown over the existing football and baseball field. The second floor actually fits on top of the first floor drawing and does not infringe upon the football and baseball field. Those areas will not be disturbed.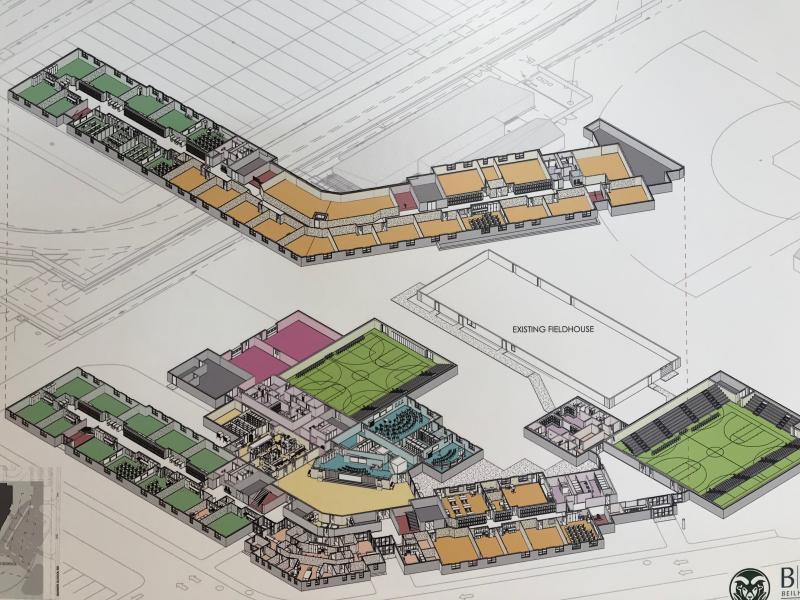 These are updated exterior views (1/25/2019) of the new building. This is a design still in process and is subject to change.