Attention parents of Juniors and Seniors: this is a reminder that there will be an after prom meeting tonight at 7:00 p.m. in the HS cafeteria.

Attention Parents & Students: The lunch menu for all K-12 students on Thursday, October 28 will be Grilled Cheese, Ravioli, Carrots, and Mandarin Oranges. Tomato soup will NOT be served.

Cross Country Regionals: Tickets for this Saturday at Hedges Boyer Park in Tiffin, Ohio:
https://www.ohsaa.org/tickets
All tickets need to be bought online and they will be $10 for presale and $12 if you buy the tickets the day of the race online. Div. 3 Girls - 9:00 am Div. 3 Boys - 10:00 am

THS picture retakes originally scheduled for this morning did not occur. We are working to reschedule them soon. More information will be sent out when we have more details. I apologize for the inconvenience.


Attention Tinora Elementary Parents: Please see the 2 cafeteria menu changes: Thursday, October 28 - We will have Ravioli instead of Tomato Soup. Monday, November 1st - We will have Breakfast Pizza instead of Pancakes. November lunch menus will be sent home this week.

PROJECT NOEL 2021 provides assistance to Tinora families with school age and younger children for the 2021 Christmas Season. If you could use some help to provide clothing and toys for your children this Christmas, please complete the enclosed application and email it to:
projectnoel@yahoo.com
. This program is organized by Bethlehem Lutheran Church (near Okolona, Ohio), with help from local businesses, churches, organizations and families. If you have any questions please call 614-406-9107.
https://5il.co/10xx7

Bus #4 (Jen Brubaker) is running late.

Reminder: 2 Hour Delay - Wednesday, October 27, for a Teacher In-Service


Attention Tinora Elementary Parents: Please see the attached TES Newsletter. Have a great weekend! Go Rams!
https://5il.co/10vkn


Sporting Tournament/Playoff Games: Community Members, please go to
www.ohsaa.org/tickets
to purchase tickets. These events will require you to purchase tickets online and not at the gate. Go Rams!

Any student who is interested in taking CCP classes for the 2022-2023 school year, you need to pre-register in the high school office. Please see Mrs. Rinkel for more information.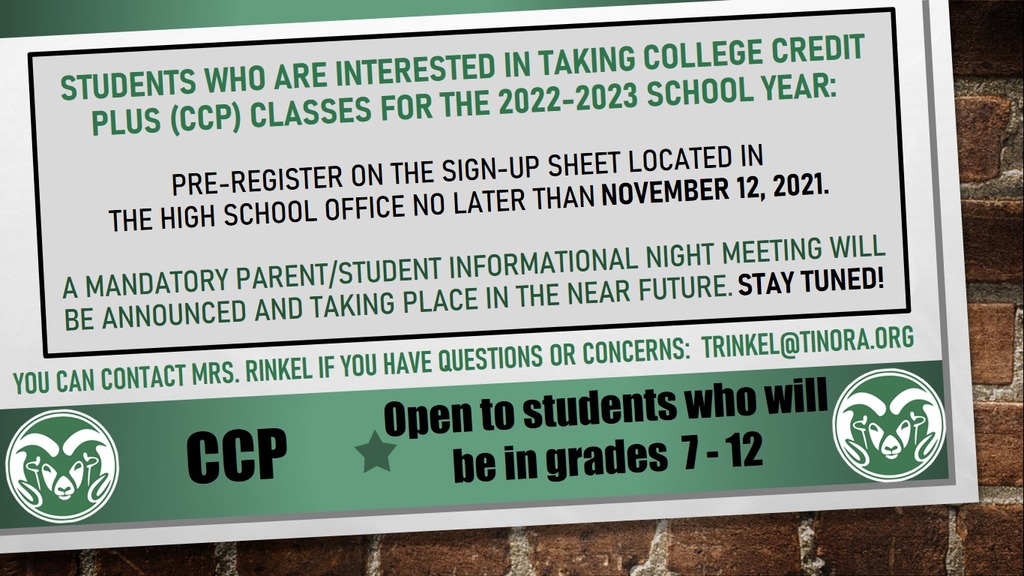 High School Students: Check out this college & career expo being held at Liberty Center High School on November 2!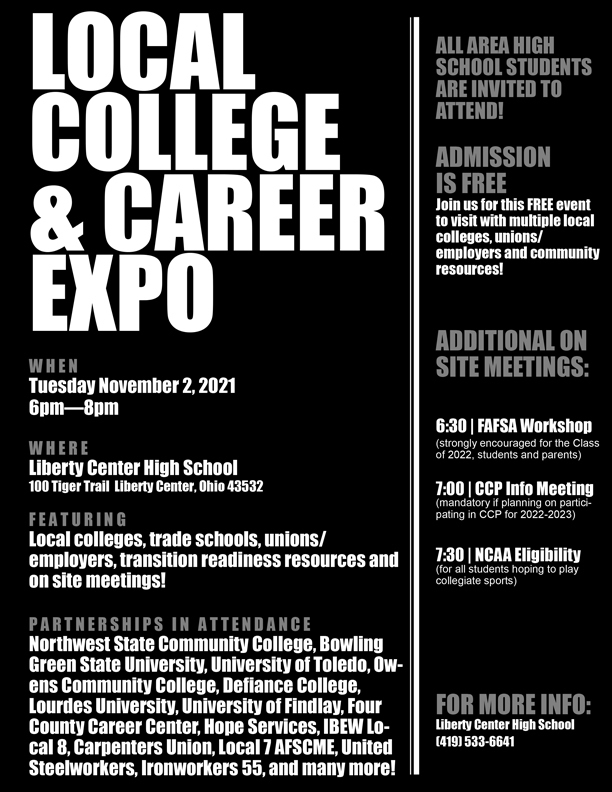 Bus #9 (Jami Young) is running late.

District Newsletter - Fall 2021 Newsletters will be mailed to the community soon.
https://5il.co/10qn6

The 8th grade class is hosting one final fundraiser to off set the cost of their upcoming trip to Washington D.C. TMS 8th graders are selling pies from The Dough Box at Sauder Village! Pies will arrive just in time for Thanksgiving. If you are interested in purchasing pies, please see a TMS 8th grader or stop in the school office to order. All orders must be in by this Friday, October 22nd. file:///C:/Users/Maxwell/Downloads/SKMC659_K8321101909490%20(1).pdf

Cross Country Districts - Saturday, October 23 @ Leaders Farm Tickets must be purchased online, no ticket sales at the event.
https://www.ohsaa.org/tickets
Presale $8 Day of Event $10 Girls Run @ 9:00 AM Boys Run @ 11:10 AM