Attention families of football players, cheerleaders, and band members: We have a few remaining ticket codes left. If you would like another code that is good for 2 tickets, please email me at
etipton@tinora.org
. The tickets will be distributed in the order that emails are received. Please remember that there will not be any ticket sales at the game and you must have your ticket with you, either digitally or as a printed copy, so that it can be scanned at the gate. Gates will open at 6:15. Go Rams!

Attention Football Players, Cheerleaders, and Band members - Please remember that online ticket sales for Saturday night's playoff football game began today at 12:00. If you happened to purchase tickets, you will see that it lists Justin F. Coressel Stadium at Defiance College as the host location. This is incorrect information. The game will be played at Justin F. Coressel Stadium on the Northeastern Local Schools campus (Our home stadium). Thank you.

Attention THS Seniors: Graduation Order Day is this Monday, October 19th, during lunch in the cafeteria hallway. Please make sure you have your order form, down payment, and diploma information card. Extra ordering packets are available in the high school office.

Attention THS Freshmen: Class ring orders can be placed this Monday, October 19th, during lunch in the cafeteria hallway. You will need to bring your order form and your deposit. Also, if you order a class ring, you will receive a free companion ring and your choice of an Adidas backpack, wireless earbuds, or a softshell jacket.

U.S. Secretary of Agriculture Sonny Perdue announced that the U.S. Department of Agriculture (USDA) is extending flexibilities to allow free meals to continue to be available to all children throughout the entire 2020-2021 school year. This unprecedented move is part of USDA's unwavering commitment to ensuring all children across America have access to nutritious food as the nation recovers from the COVID-19 pandemic. "As our nation recovers and reopens, we want to ensure that children continue to receive the nutritious breakfasts and lunches they count on during the school year wherever they are, and however they are learning," said Secretary Perdue. "We are grateful for the heroic efforts by our school food service professionals who are consistently serving healthy meals to kids during these trying times, and we know they need maximum flexibility right now. Northeastern Local School students will receive a free breakfast and lunch for the remainder of the 2020-2021 school year.

Attention parents of football players, cheerleaders, and band members - Please see the attachment concerning ticket sales for Saturday evening's playoff football game against Hicksville. If you have any questions, please contact Mr. Rutter by phone at 419-497-2621, Extension 1110, or by email at
crutter@tinora.org
.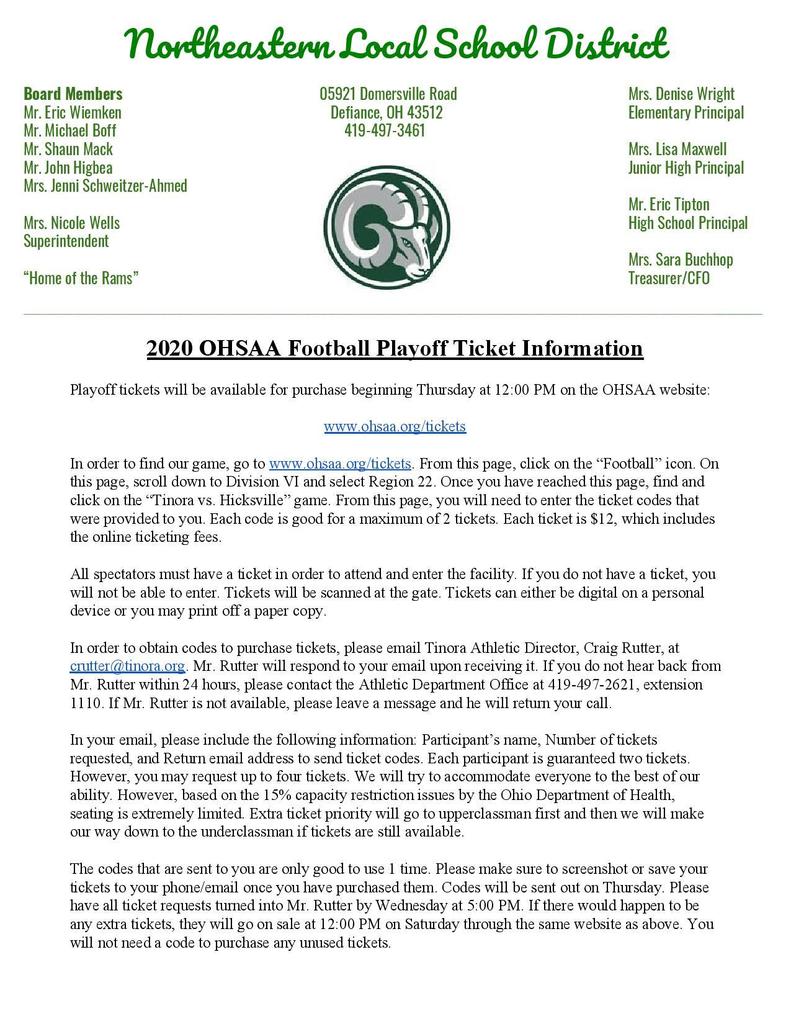 IMPORTANT BUS REMINDER: Due to contact tracing and assigned seating requirements, we request that all students ride their assigned bus to and from school.

New staff members at Tinora. We are so excited to have them join the Ram Family! Back Row: Kari Altstaetter (TMS), Erin Stanley (TMS), Kyle Norden (THS), Casey Helton (THS) Front Row: Candi Keller (TES), Melissa Coressel (bus driver), and Stephanie Ruffer (TES)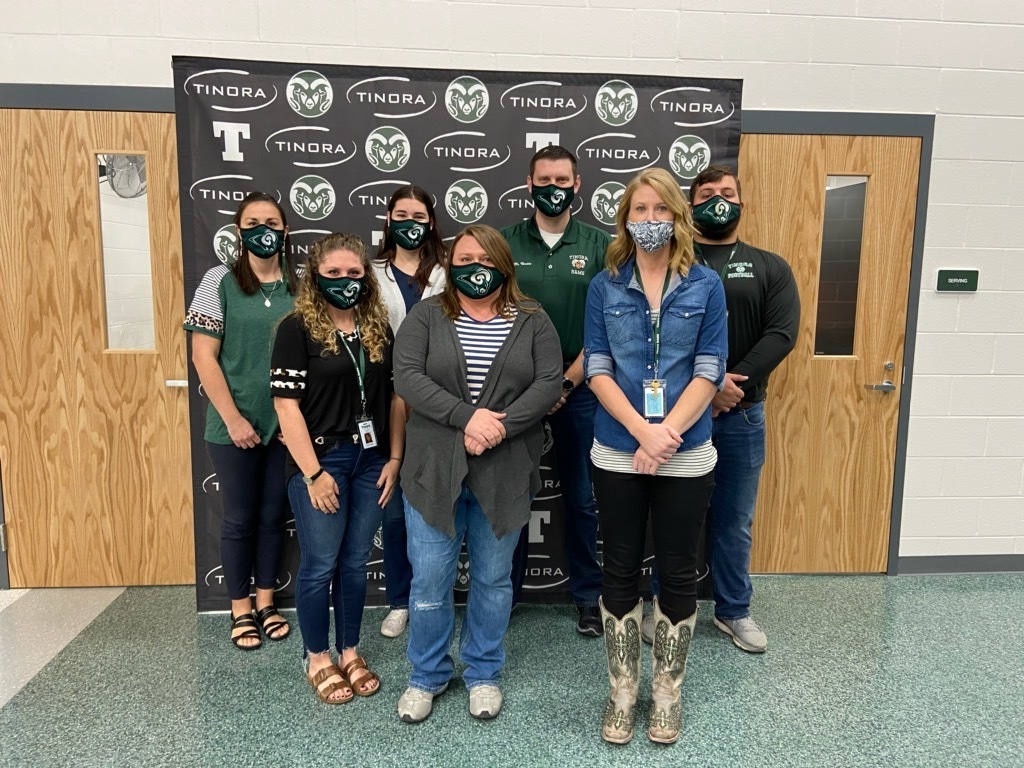 Attention Seniors - This is just a friendly reminder that Senior Composite pictures with Rod Brown will be on Wednesday, October 14th on the stage in the cafeteria. Pictures will begin at 7:30. Gentlemen are encouraged to wear a shirt/tie while ladies are encouraged to wear a formal top.

Tinora Substitute and Paraprofessional Applications

The Brunersburg Water District collected lead and copper samples on September 17, 2020. The results came back well below EPA guidelines. A copy of the results can be found in the Central Office. Thank you.

Northeastern Local Schools will be in session today after the two hour delay! 10/5/2020

Northeastern Local Schools delayed 2 hours due to patchy fog. 10/5/2020


Mental Health Flyer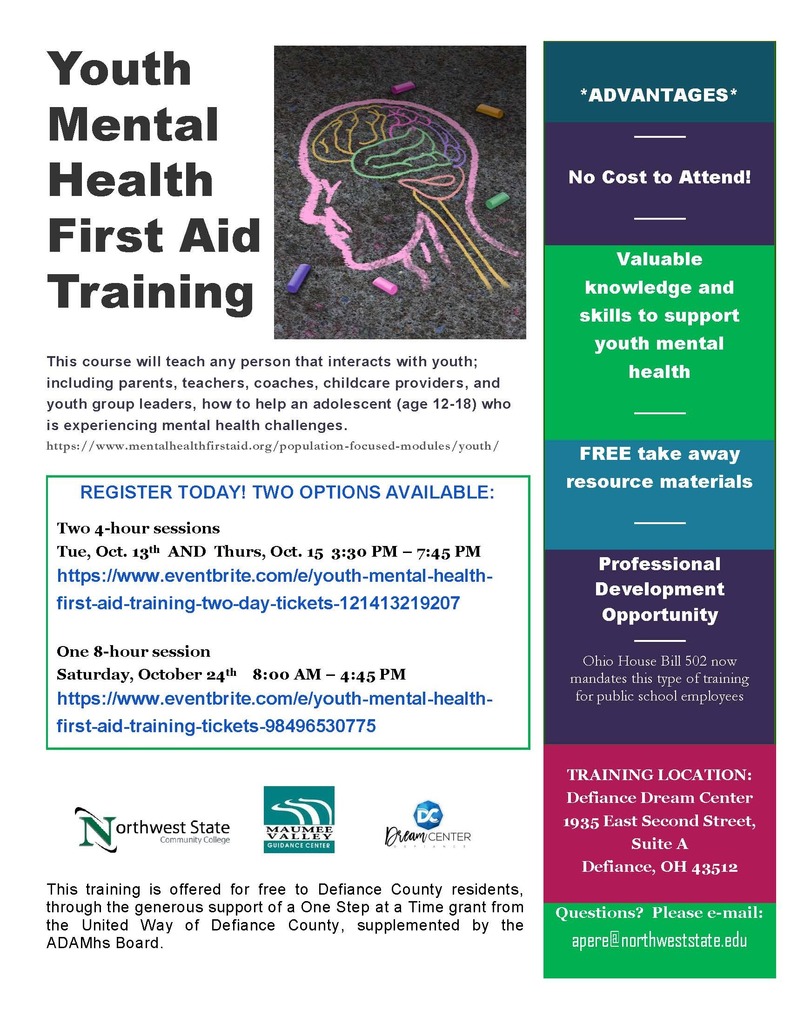 Cyberbullying Flyer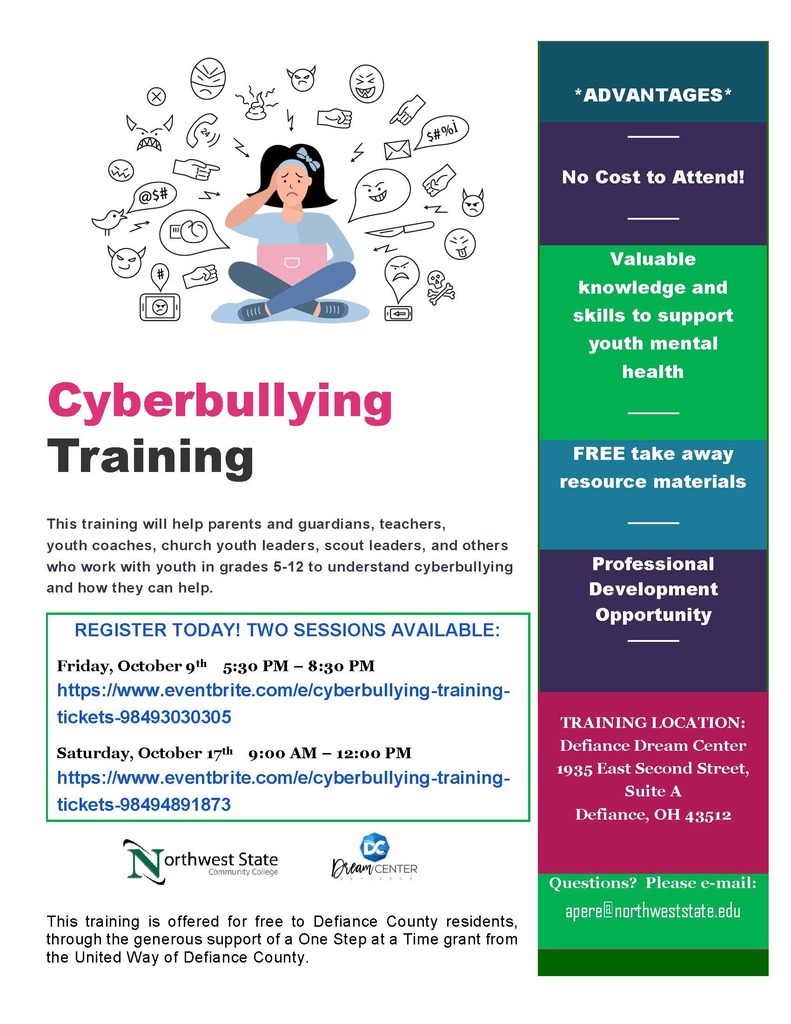 Our October After Prom meeting is scheduled for Monday, Oct. 12 at 7:00 PM in the high school cafeteria. We would appreciate having more junior and senior parents consider joining the committee to help with the planning. Hope to see you there!

Attention Football Players, Cheerleaders, & Band Members - Tickets for this week's game against Ayersville will be on sale tomorrow from 10:00 to 3:30 and Friday from 9:00 to 12:00 in Mr. Rutter's office. Based on the number of tickets available, seniors may purchase up to 4 tickets, juniors may purchase up to 3 tickets, and sophomores/freshmen may purchase up to 2 tickets.

After Prom Fundraiser - Please support our Juniors and Seniors.